Remember how I said I got 4th place in the
Semi-Charmed Summer Book Challenge
? Yeah. That was pretty cool. Especially because
I got to pick a category
for the
Winter 2014 challenge
! So of course I'll have to participate again.
Basic rules:
read as many books as you can between November 1st, and February 28th! They must be 200 pages, a different book for each category, and only 3 can be rereads. For elaboration, go check out
the official rules
.
Initially, I was a little disheartened because some of the categories are
HARD
this year! It honestly took me a couple hours of browsing Goodreads and Googling before I found something that fit each category. In any case, here's my selections:
5 points: Freebie!
—
Bossypants
, Tina Fey (264 pages)
10 points: Read a book written by an author who has published at least 10 books.
—
Stardust
, Neil Gaiman (248 pages - apparently he also wrote
Coraline
; who knew?)
10 points: Read a book of short stories.
— Either
The Complete Fairy Tales
by Hans Christian Anderson or
The Complete Grimm's Fairy Tales
by the Brothers Grimm (803 or 880 pages - haven't decided yet, but I own both and haven't ever made it through either.)
10 points: Read a book with a food in the title.
—
Potatoes Come Forth!
, H. Jonas Rhynedahll (330 pages)
15 points: Read the first book in a series that is new to you.
—
The Goose Girl
, Shannon Hale (383 pages - The Books of Bayern #1)

15 points: Read a book that was originally written in a different language.
—
The Phantom of the Opera
, Gaston Leroux (360 pages - French, if you couldn't guess.)
15 points: Read a book written by a local author.
—
Captive
, Colleen Faulkner (416 pages - another DE resident! I had a choice between her touching novel about a woman adjusting to her adult child with down syndrome growing up, or smut. I chose smut.)
20 points: Read a "bookish book".
—
The Eyre Affair
, Jasper Fforde (374 pages - Things from literature come to life. Excited about this one!)
20 points: Read a book with a direction in the title.
—
East
, Edith Pattou (507 pages)
25 points: Read a book from a genre you don't usually read.
—
The Colour Purple
, Alice Walker (256 pages - This was my category and it was hard. I'm using it to force myself to read something I'm less excited about.)
25 points: Read a book with a song lyric in the title.
—
On My Own
, Eleanor Roosevelt (234 pages - On My Own, sung in Les Miserables by Eponine, lyrics by Herbert Kretzmer)
30 points: Read two books with a different meal in each title.
—
Mr. Darcy Came to Dinner
, Jack Caldwell (256 pages) &
Breakfast of Champions
, Kurt Vonnegut (302 pages)
Pick some books and complete in Megan's
Semi-Charmed Winter 2014 Book Challenge
! It starts November 1st, and I can't wait to get started on Stardust.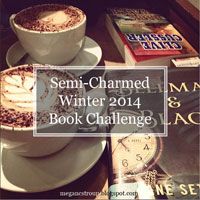 What good books have you read lately? Have you completed (or started) any book challenges?