My first update for the
Semi-Charmed Winter Book Challenge
! I've read 4 books out of 13, so I'm off to a decent start. I'm going to be talking about Stardust, The Colour Purple, Goose Girl, and Phantom of the Opera, and if you haven't read them, I'm going to recommend you stop here because SPOILERS! (Honestly, I'm not even sure what's considered a "spoiler" anymore, but I'd rather not limit myself if I have something to say about the ending.)
Stardust -
♥
♥
♥

♥
My first read was Stardust, which was recommended to me by several people. I might have messed this one up by watching the movie first. I liked the movie a lot, so it would have been difficult for the book to top it. In general, I found the book to be a lot less cheerful and peppy than the movie. While it did have a happy ending, it was a little less satisfying of a conclusion and the little we know about his mother makes me like her less than in the movie. Overall, though, it was still a good story. Very fanciful and fun, which is exactly the kind of read I like. My only qualms were that I liked the movie version better, and that although there is character development, we don't really see it happening. It's just like all of a sudden at the end, Tristan (and the star, but mostly Tristan) have different motivations and you don't really see them changing.
The Colour Purple -
♥
♥
♥♥

♥
So this was my "genre I don't normally read" book and I was very pleasantly surprised. I was expecting the book to be like
God Don't Like Ugly
, which I read for the last challenge, and it definitely started out that way, but overall it had a lot more depth and the plot went to places I didn't expect. The main character struggles with abuse, discrimination, and basically depression. She says a few times that she's just hanging in there waiting for life to be over with. So that was hard to read. But then you start learning about her sister, who is working with missionaries over in Africa, and it's really fascinating how, despite being worlds away, the sisters are experiencing similar issues with discrimination, from white people in the US and from the African natives, and as women by men.
The biggest surprise was the uplifting ending, which I did not expect and, if I'm being totally honest, is a little unrealistic. It's not like the Stardust problem, where the characters are suddenly changed without having undergone that character development. It's more my own cynicism and not believing that people are capable of changing so completely after a lifetime of being the abuser, or being abused. I was startled by how easily they all became friends at the end, after a variety of interpersonal issues, and it made me reflect on whether or not that would be possible in the real world. Who knows?
The Goose Girl -
♥
♥
♥♥

♥
After that I needed a lighter read and I was pining for my fantasy genre, so I picked up The Goose Girl, which is based on that fairytale. I loved most of the book. They really fleshed out the main character, so she goes from being an inexperienced princess to living with, and getting to know, the other side of the kingdom. The part that almost made it a 4 star book was the end. I'm seeing a pattern in a lot of my fairytale adaptations. The author will take this story, put their own, wonderful, creative spin on it, but then, after so carefully fleshing out most of the story, will rush the ending so that it's all quickly and easily resolved. It's just a little anticlimactic, and I feel like we lose the character a little bit in all the haste to wrap things up happily. Really a minor issue, though (not nearly as bad as
Beauty
), and I did end up giving it 5 stars, and will definitely be picking up the sequel. (Not yet sure whether it'll be a continuation of the goose girl's story or another fairytale, but I'm hoping for the latter.)
The Phantom of the Opera -
♥
♥
♥

♥
This one was in my list of "classics" that I felt I should read, and I was interested to see how it compared to the musical. It's different, of course, but in a way that makes sense to me. And I think it's better, because the overall tone is similar and it's just that you get to dive deeper into the world and learn all the intricacies of the phantom or "Opera Ghost" as he calls himself. The beginning of the book was a little slow. It took a while to figure out what was going on, and Christine seemed awfully flaky, saying different things at different times until I started to dislike her. Then, we realize she was changing her opinion so much because she was only just discovering what was going on, as well! She's really only one step ahead of Raoul, and the phantom is the only one who really knows what's going on.
The introduction of the Persian at the end was unexpected and maybe a little too convenient, seeing as he was able to fill in all the gaps in the mystery. But having that knowledge doesn't make it any easier for him and Raoul to save Christine, and they almost die without actually accomplishing their mission. It does make for a more satisfying story, as you learn all about where the phantom came from, and how he came to possess all the skills he utilizes to evade capture and torment the theater folk. I'll restate this: it is much darker than the musical, but it's definitely a good story and worth a read.
So that puts me to 65 points out of 200. Remaining 135 points, you're going down! Here's some of the books I'll probably be posting about in the next couple of months:
5 points: Freebie!
—
Bossypants
, Tina Fey (264 pages)
10 points: Read a book written by an author who has published at least 10 books.
—
Stardust
, Neil Gaiman (248 pages -
♥
♥
♥
♥
)
10 points: Read a book of short stories.
— Either
The Complete Fairy Tales
by Hans Christian Anderson or
The Complete Grimm's Fairy Tales
by the Brothers Grimm (803 or 880 pages - haven't decided yet, but I own both and haven't ever made it through either.)
10 points: Read a book with a food in the title.
—
Potatoes Come Forth!
, H. Jonas Rhynedahll (330 pages)
15 points: Read the first book in a series that is new to you.
—
The Goose Girl
, Shannon Hale (383 pages -
♥
♥
♥
♥

♥
)

15 points: Read a book that was originally written in a different language.
—
The Phantom of the Opera
, Gaston Leroux (360 pages -
♥
♥
♥
♥
)
15 points: Read a book written by a local author.
—
Captive
, Colleen Faulkner (416 pages - another DE resident! I had a choice between her touching novel about a woman adjusting to her adult child with down syndrome growing up, or smut. I chose smut.)
20 points: Read a "bookish book".
—
The Eyre Affair
, Jasper Fforde (374 pages - Things from literature come to life. Excited about this one!)
20 points: Read a book with a direction in the title.
—
East
, Edith Pattou (507 pages)
25 points: Read a book from a genre you don't usually read.
—
The Colour Purple
, Alice Walker (256 pages -
♥
♥
♥
♥
♥
)
25 points: Read a book with a song lyric in the title.
—
On My Own
, Eleanor Roosevelt (234 pages - On My Own, sung in Les Miserables by Eponine, lyrics by Herbert Kretzmer)
30 points: Read two books with a different meal in each title.
—
Mr. Darcy Came to Dinner
, Jack Caldwell (256 pages) &
Breakfast of Champions
, Kurt Vonnegut (302 pages)
Pick some books and compete in Megan's
Semi-Charmed Winter 2014 Book Challenge
! It runs until the end of February.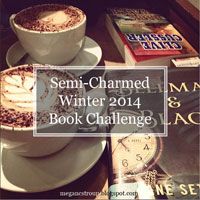 What good books have you read lately? Have you completed (or started) any book challenges?