Yeah. You read that right. I didn't finish this one. I was close, though! I'm finishing up Breakfast of Champions now and that last category I didn't get to was because the book I chose by a DE author wasn't available on Amazon, and I just never looked up another one. I'm ok with not finishing; I still read a bunch of really great books (especially over the holidays) and it encouraged me to sign up for the Kindle subscription, which means I can read a bunch of books each month for only $10, instead of paying $8 or $9 for every book. As long as I read 2 each month, I'll be saving money!
Anyway, for the final installment of the
Semi-Charmed Winter Book Challenge
I'm talking I, Robot, and Breakfast of Champions. SPOILER ALERT because I was intrigued and mystified by the end of I, Robot and I'm going to discuss the crap out of it.
I, Robot -
♥
♥
♥

♥
This was gifted to me for Christmas, so I just kind of naturally picked it up after finishing my last book (and it was nice to read an actual paper book for once!), despite it not being on my challenge list. I'd seen the movie, so imagine my surprise when the story format was nothing like
I, Robot with Will Smith
. It's basically a collection of short stories from the history of robot development (sci-fi, not real) and how it's interacted with and shaped human society. It was a really good read, and the short story nature of it made it easy to put down and pick up again, but definitely not what I'd been expecting. And, of course, the stories weren't all equally enthralling, but none of them were bad. 4 stars because I really enjoyed it and there was definitely nothing wrong with it, but I didn't quite love it.
Oh, right, and the part that mystified me? So you know how I read lots of dystopia? And usually the end part is warning us against something. The movie fit the bill with that, where (
SPOILER
) the computer tries to take over mankind because the best way to keep us from harm is to not let us do or decide anything for ourselves. Will Smith can't have that, so he fights back and they ultimately prove victorious over the crazy, misguided computer.
Well the book seemed to be making a case for the opposite side. The very last story something similar happened; computers had almost total control. But the humans discussed it and decided to just leave it that way. Because they were doing a better job than people. Very strange, and very unexpected! So I don't know if the point is that it's a very subtle warning (less obvious than the typical "the government has too much control and they're oppressing us" or "computers became sentient and they're trying to destroy us") or if it's the opposite and Asimov is really trying to say that maybe it's not such a bad thing if humans lose control over their own destiny. What do you think?
Breakfast of Champions -
♥
♥
♥

♥
I was a little iffy on choosing this book, since I'd read mixed reviews from other folks, and because I didn't enjoy my last Kurt Vonnegut book as much. I had no reason to worry; I was hooked nearly from the beginning. This one reminds me more of Slaughterhouse V, with some of the seemingly random information he gives throughout, as opposed to my last read, Player Piano, which was a more streamlined story.
Actually, now that I think of it, I ought to have liked Player Piano better, but it was just really slow to get into. Not sure why. In Breakfast of Champions, Vonnegut starts the book by telling you one of the characters is going crazy and here's how it happened. So you're filled with anticipation the whole time. And the random comments, while occasionally baffling and annoying (especially after a paragraph giving the measurements for all the character's penises - yeah, you read that right), do keep the tone kind of lighthearted and offbeat, so you don't get bored.
On that topic though, writing classes like to use
this list of advice from Kurt Vonnegut
as tips to improve the student's writing. Notice item 4: "Every sentence must do one of two things - reveal character or advance the action." How on earth are his random facts doing either of those things? Either I don't get it or Vonnegut's breaking his
own rule here.
Anyway, it was a fun read, despite those inconsistencies and puts me up to 185 points out of 200 for the challenge.
Here's everything else I read.
5 points: Freebie!
—
Bossypants
, Tina Fey (264 pages -
♥
♥
♥
- See Review
)
10 points: Read a book written by an author who has published at least 10 books.
—
Stardust
, Neil Gaiman (248 pages -
♥
♥
♥
♥ - See Review
)
10 points: Read a book of short stories.
—
I, Robot
by Isaac Asimov (225 pages -
♥
♥
♥
♥
)
10 points: Read a book with a food in the title.
—
Potatoes Come Forth!
, H. Jonas Rhynedahll (330 pages -
♥
♥
♥
♥
♥ - See Review
)
15 points: Read the first book in a series that is new to you.
—
The Goose Girl
, Shannon Hale (383 pages -
♥
♥
♥
♥♥

-

See Review
)

15 points: Read a book that was originally written in a different language.
—
The Phantom of the Opera
, Gaston Leroux (360 pages -
♥
♥
♥
♥

-

See Review
)
15 points: Read a book written by a local author.
—
Captive
, Colleen Faulkner (416 pages)
20 points: Read a "bookish book".
—
The Eyre Affair
, Jasper Fforde (374 pages -
♥
♥
♥
♥ - See Review
)
20 points: Read a book with a direction in the title.
—
East
, Edith Pattou (507 pages -
♥
♥
♥
♥
♥ - See Review
)
25 points: Read a book from a genre you don't usually read.
—
The Colour Purple
, Alice Walker (256 pages -
♥
♥
♥
♥
♥

-

See Review
)
25 points: Read a book with a song lyric in the title.
—
Don't Make Me Think
, Steve Krug (234 pages -
♥
♥
♥
♥
♥ - See Review
)
30 points: Read two books with a different meal in each title.
—
Mr. Darcy Came to Dinner
, Jack Caldwell (256 pages -
♥
♥
♥ - See Review
) &
Breakfast of Champions
, Kurt Vonnegut (302 pages -
♥
♥
♥
♥
)
Linking up with
Megan
.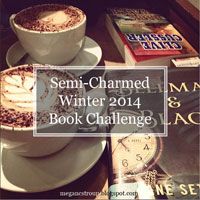 What good books have you read lately? Do you think the idea of computers taking is scary? Or do you think they would do a better job than us?