We're through the 2nd month of the
Semi-Charmed Winter Book Challenge
. It's gotten to be a no-pressure thing at this point because of all the people who finished in the first month, but that's ok. I don't need to inflict a horrible category on the competitors every year. ;-)
I'm up to 10 books out of 13. I'm going to be talking about Bossypants, Mr. Darcy Came to Dinner, East, Potatoes Come Forth, The Eyre Affair, and Don't Make Me Think. I was going to add a spoiler warning, but I managed not to give away any of the endings this time! (If you want to hear about Stardust, The Colour Purple, The Goose Girl, or The Phantom of the Opera, read
last month's post
.)
Bossypants -
♥
♥
♥
I know everyone loves the comedian humor/bibliography books right about now. I've had Bossypants, Yes Please, and Is Everyone Hanging Out Without Me? recommended to me by a bunch of people. But I'm just not feeling it. The writing made me laugh (although not as much as The Bloggess' book), but in general I just miss having a narrative feel to it, or some kind of focal point. Instead it's just a series of random topics, most of which are relevant to the author's life in some way, but few that impart much in the way of knowledge, or contribute to a cohesive story.
I think my favorite part is when she discusses body image, but I feel like it's been quoted so much that I've already been exposed to the important concepts. I also liked the chapter on parenthood where she pokes some fun at the opinionated advice-giving parents. And I enjoyed most of her self-deprecatory humor, but it started to get a little excessive with all the self put-downs and I didn't see the confidence I was expecting. In general, this was a bit of letdown for me, but I wouldn't say other people shouldn't read it. Just that I personally don't enjoy this style as much as others.
Mr. Darcy Came to Dinner -
♥
♥
♥
So this is the first "fan fiction" I've ever really read and I didn't know what to expect. This one follows the plot of Pride and Prejudice up until a certain point and then it leaps in with an alternate flow of events. The author seems bent on "fixing" the entire Bennett family, and resolving all situations in the most positive way possible, which is a bit cheesy. My favorite part has been seeing how lines or quotes from the original works are used, but twisted into a different situation. Like in P&P, Lady Catherine is the one who says, "This is not to be borne!" But in this version it's Mrs. Bennett.
To sum up: I don't love it, but I don't hate it either. I wasn't expecting much so I wasn't able to be disappointed.
East -
♥
♥
♥
♥
♥
I loved this! To be fair, I was pretty sure I was going to like it. It's an adaptation of The Polar Bear King, but it puts a creative spin on it. I particularly enjoyed the way the narrative flipped between different characters, and some of the mythology and superstitions (particularly of Rose's mother). My only complaint was that the end was rather slow, after solving the conflict, and there were more chapters than needed to explain the happy ending. I debated a bit, but ended up giving it 5 stars because I enjoyed the rest of it so much.
Potatoes Come Forth -
♥
♥
♥
♥
♥
Did I say I loved East? Well, then I need a stronger adjective for this book, because it was a perfect read for me. There's some magic, some technology, adventure, romance, and quite a bit of comedy. Unlike a lot of fantasy books, it puts a really irreverent cast on magic and magic users, and kept me entertained throughout. And, unlike East, when the story was over we didn't linger. The author knew exactly where to cut it off.
The Eyre Affair -
♥
♥
♥
♥
I enjoyed this one quite a bit, but I don't think I can say the writing is quite on par with the other books I've read. Maybe it was just the kindle version, but there was a fair amount of grammar stuff, which was only mildly distracting, and some deviation from the first-person point of view, which was actually annoying. Basically, if a story is being told by one person, then we should never hear what other people are saying and thinking when that character isn't there. The ironic thing: at one point in the book, the main character is actually within a novel (Jane Eyre), trying not to change things by... only interacting with the characters when the main character isn't there (since Jane Eyre is also a first-person narrative). So I'm not sure why the author decided to break those rules in his story.
Anyway, those issues aside, it is a fun story, and I enjoyed following along with the main character as she tackles this mystery. Typically I don't enjoy crime-solving or mysteries as much, but there was enough magic and fantasy in there to spice it up a little. And it was super fun seeing how they interacted with, and even changed the course of, other literature.
Don't Make Me Think -
♥
♥
♥
♥
♥
So I swapped this one in for the Song Lyric category. I was having trouble finding On My Own (by Eleanor Roosevelt), and this was in my list of recommended reading for my Master's program (that starts at the end of January!!!), so I thought, why not? The lyric is in
So Sick by Ne-yo
, "Don't make me think about her smile." That counts, right? Or is it supposed to be the whole line?
Regardless of whether this fits this challenge, it was a fantastic read! It's all about usability for web design and it's written in a very down-to-earth, humorous tone that made the whole thing very enjoyable. I learned a lot, especially about user testing, which is something I've never even considered implementing before.
So that puts me to 145 points out of 200. Here's the rest of my reading list - although I might have to swap out another one. I'm having trouble obtaining the book by a DE native.
5 points: Freebie!
—
Bossypants
, Tina Fey (264 pages -
♥
♥
♥
)
10 points: Read a book written by an author who has published at least 10 books.
—
Stardust
, Neil Gaiman (248 pages -
♥
♥
♥
♥
)
10 points: Read a book of short stories.
— Either
The Complete Fairy Tales
by Hans Christian Anderson or
The Complete Grimm's Fairy Tales
by the Brothers Grimm (803 or 880 pages - haven't decided yet, but I own both and haven't ever made it through either.)
10 points: Read a book with a food in the title.
—
Potatoes Come Forth!
, H. Jonas Rhynedahll (330 pages -
♥
♥
♥
♥
♥
)
15 points: Read the first book in a series that is new to you.
—
The Goose Girl
, Shannon Hale (383 pages -
♥
♥
♥
♥

♥
)

15 points: Read a book that was originally written in a different language.
—
The Phantom of the Opera
, Gaston Leroux (360 pages -
♥
♥
♥
♥
)
15 points: Read a book written by a local author.
—
Captive
, Colleen Faulkner (416 pages - another DE resident! I'm having trouble obtaining her book, so I might have to find a different DE author.)
20 points: Read a "bookish book".
—
The Eyre Affair
, Jasper Fforde (374 pages -
♥
♥
♥
♥
)
20 points: Read a book with a direction in the title.
—
East
, Edith Pattou (507 pages -
♥
♥
♥
♥
♥
)
25 points: Read a book from a genre you don't usually read.
—
The Colour Purple
, Alice Walker (256 pages -
♥
♥
♥
♥
♥
)
25 points: Read a book with a song lyric in the title.
—
Don't Make Me Think
, Steve Krug (234 pages -
♥
♥
♥
♥
♥
)
30 points: Read two books with a different meal in each title.
—
Mr. Darcy Came to Dinner
, Jack Caldwell (256 pages -
♥
♥
♥
) &
Breakfast of Champions
, Kurt Vonnegut (302 pages)
Pick some books and compete in Megan's
Semi-Charmed Winter 2014 Book Challenge
! It runs until the end of February.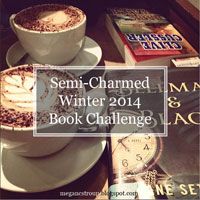 What good books have you read lately? Have you completed (or started) any book challenges?